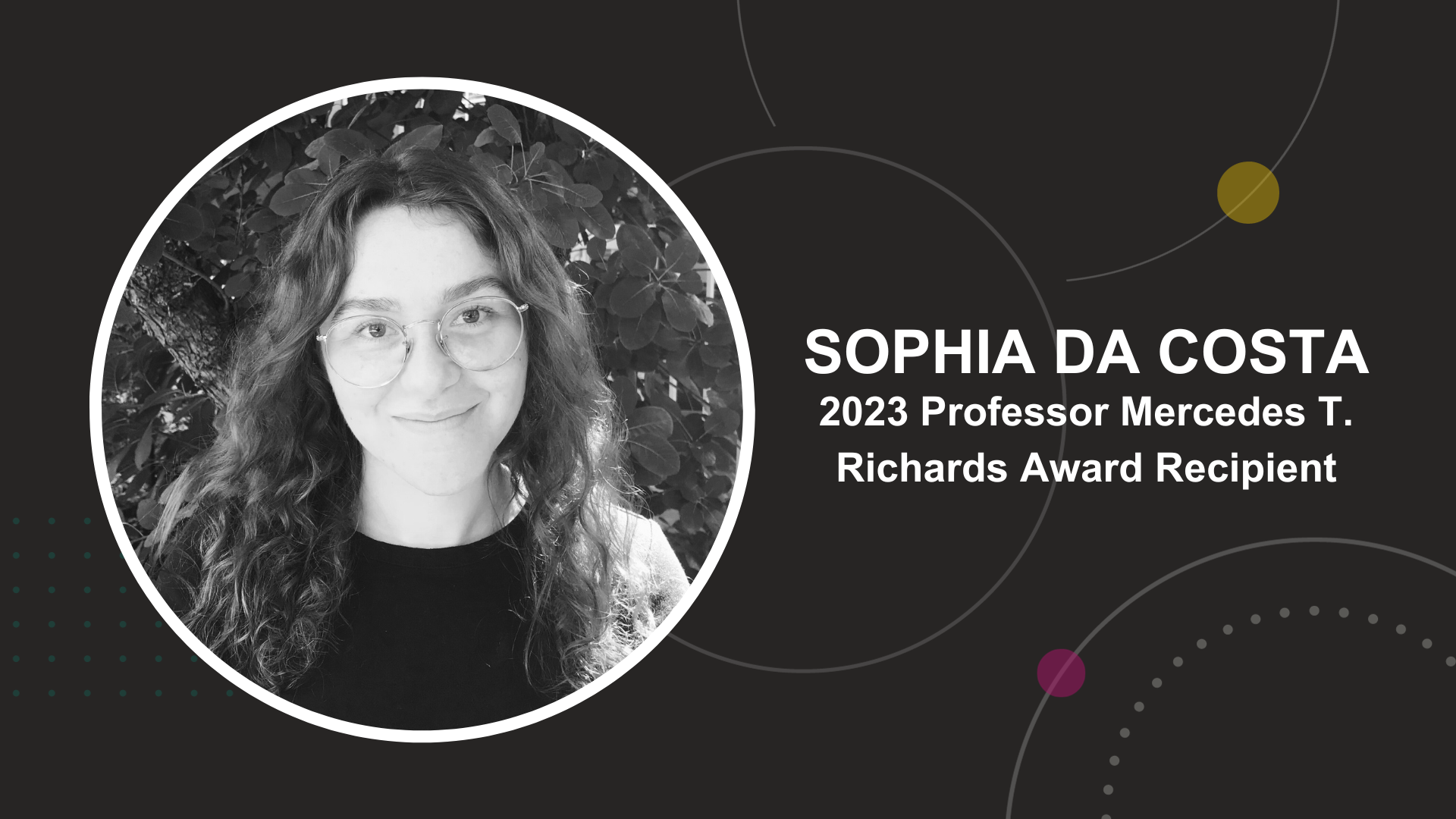 Sophia Da Costa, a fourth-year undergraduate student at the University of Waterloo, was recently recognized by the Dunlap Institute with the second annual Professor Mercedes T. Richards Award for Excellence in Summer Undergraduate Research. 
Supervised by Prof. Keith Vanderlinde, Da Costa designed, built and deployed an ultrawide band receiver chain for the 46-meter radio telescope at the Algonquin Radio Observatory (ARO) as part of the Summer Undergraduate Research Program (SURP). 
Faced with an extensive and challenging project, Da Costa dove right in—visiting ARO on her second day in SURP. "Every day was exciting! I was constantly tackling new problems, and the experience has definitely made me a better researcher," she says. 
Da Costa designed a feed—like an antenna—that collects weak signals from distant radio sources in space. She adapted technology from the Canadian Hydrogen Observatory and Radio-transient Detector (CHORD) currently being built in British Columbia. She also developed the necessary circuitry to amplify the radio signals it collects, allowing them to be digitally processed. 
Although challenging, the experience was also rewarding, Da Costa says. "Installing the receiver chain at ARO took about 3 days. I was constantly climbing into the telescope to install the amplification stages I developed, fix wiring connections, and run tests. It was a pretty intense process but by far one of the best experiences I've had."  
The project is currently operational at ARO and is being used to study pulsar scintillation. 
Pulsars are rapidly rotating neutron stars that send beams of radiation across space through their magnetic poles. By tracking these pulses with each rotation on Earth, pulsars work like a cosmic lighthouse or cosmic clock. The radio waves they emit scatter as they travel through the interstellar medium (ISM), which is the matter and radiation between star systems within our galaxy. Effectively, they appear to scintillate when observed on Earth. 
By studying this scintillation effect, Da Costa explains, we can learn more about the properties of the ISM. This can help us better understand the structure and formation of our galaxy. 
"I had an incredible time participating in SURP over the summer. It's helped me realize that I want to pursue astronomical instrumentation during grad school alongside cosmology-based topics," Da Costa says. She is particularly drawn by the potential of future radio instrumentation being able to study the early ages of the Universe. 
About the Award
The Professor Mercedes T. Richards Award for Excellence in Summer Undergraduate Research is awarded annually to a SURP student who has demonstrated outstanding achievement and growth in astronomy research. 
This award honours the memory of Professor Mercedes T. Richards (1955-2016) and her tireless efforts to advance the fields of physics and astronomy. Originally from Jamaica, Prof. Richards earned her PhD in Astronomy and Astrophysics at the University of Toronto in 1986. 
Prof. Richards performed groundbreaking research across computational astrophysics, stellar astrophysics, and exoplanets and brown dwarfs. In fact, she was the first astronomer to use the process of tomography to observe binary star systems, and model how gases flow around stars in binary systems. 
Da Costa is inspired by Prof. Richards' deep involvement in scientific outreach, and her mentorship and advocacy for women and other underrepresented groups. 
"I feel so honoured to be associated with Professor Richards and this award. I definitely hope to instill her values into my future work," Da costa says. 
"During my graduate studies, I'd love the opportunity to mentor and support undergrads and high school students. I think astronomy is a fun and fascinating subject and I want to foster a community where everyone can enjoy the science we do."