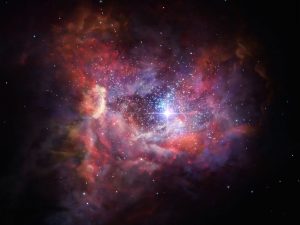 Dr. Kartheik Iyer
April 21st, 2020, 7:00 p.m. EDT (convert to your time zone)
No tale about the Universe can be complete without talking about galaxies. Galaxies are massive cosmic structures containing billions to trillions of stars. But they can be a challenge to understand, because they are incredibly diverse in shape, size, and formation.
In this episode of "Cosmos From Your Couch," we'll explore galaxy evolution, and connect populations of galaxies across different ages of the Universe to figure out how they grow through cosmic time – and why some galaxies eventually stop forming stars.
Join Tuesday's host, Dunlap Institute Fellow Dr. Kartheik Iyer, Tuesday evening, at 7pm ET!
Join us for this livestream on our YouTube page.