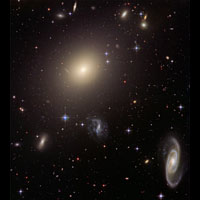 Have a thirst for a different kind of astronomy event?
Then join us on Wednesday, September 24th, for the first ever Astronomy on Tap TO—a brand new event for anyone interested in learning about astronomy over a pint or cocktail.
You'll hear short talks presented by U of T astronomers on a variety of fascinating topics, and have a chance to ask them questions. Plus, there'll be prizes and much more!
For updates, check out the event page on Facebook, or follow us on Twitter and watch for #AstronomyOnTapTO. We'll see you there!
Astronomy on Tap TO is sponsored by the Dunlap Institute for Astronomy & Astrophysics and organized in collaboration with the Department of Astronomy & Astrophysics, U of T. Image: NASA; ESA; The Hubble Heritage Team
Supermarket Bar
268 Augusta Avenue
Toronto

September 24, 2014