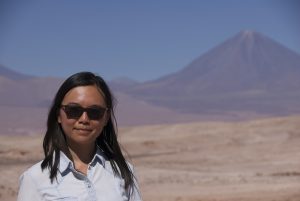 FOR IMMEDIATE RELEASE (March 2, 2020) –
Dr. Allison Man, a Dunlap Postdoctoral Fellow at the University of Toronto, has been chosen as one of three Canada-based participants for the fifth cohort of the Homeward Bound program.
Homeward Bound is a global 12-month leadership initiative for women with a background in STEMM (Science, Technology, Engineering, Mathematics, and Medicine). The aim is to equip women from around the world with the skills to lead and empower in science-based fields, culminating in a three-week trip to Antarctica.
Man says she is looking forward to this learning journey. "I'm excited to connect with so many women in STEMM from all over the planet," she says. "As our world becomes globalized, we need to collaborate with each other better, to tackle global issues like climate change. I look forward to sharing my learning with communities in Canada and beyond."
Man is an astrophysicist who studies how galaxies form and evolve. She investigates how galaxies turn gas into stars, and how supermassive blackholes might influence this process. Man has coordinated astronomy education activities in Ghana, Kenya, and Nigeria. She is first North America-based astronomer – and the first person employed at the University of Toronto – to be chosen for the program.
Homeward Bound was founded in 2016 by Australian leadership expert Fabian Dattner. This year, the program welcomes 80 participants from around the world, encompassing more than 25 nationalities. Participants will partake in online learning and strategic collaboration. Near the end of the program, they will meet in Ushuaia, Argentina, before voyaging to Antarctica.
For more information, please contact:
Meaghan MacSween
Communications and Multimedia Officer
Dunlap Institute for Astronomy and Astrophysics,
University of Toronto
(416) 978-6613
meaghan.macsween@dunlap.utoronto.ca
For more information about Homeward Bound, visit: homewardboundprojects.com.au/about
The Dunlap Institute for Astronomy & Astrophysics at the University of Toronto is an endowed research institute with nearly 70 faculty, postdocs, students and staff, dedicated to innovative technology, ground-breaking research, world-class training, and public engagement. The research themes of its faculty and Dunlap Fellows span the Universe and include: optical, infrared and radio instrumentation; Dark Energy; large-scale structure; the Cosmic Microwave Background; the interstellar medium; galaxy evolution; cosmic magnetism; and time-domain science. The Dunlap Institute, Department of Astronomy & Astrophysics, Canadian Institute for Theoretical Astrophysics, and Centre for Planetary Sciences comprise the leading centre for astronomical research in Canada, at the leading research university in the country, the University of Toronto.