FOR IMMEDIATE RELEASE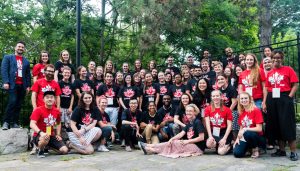 Toronto (July 28) – On July 18-20, the first national science communications workshop for graduate students launched in Canada. For two and a half days, fifty graduate students, selected from over 400 applicants, and heralding from twenty-six institutions across Canada, gathered at McMaster University for ComSciConCAN – a fully immersive experience in science communications.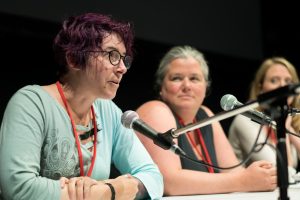 The goal of ComSciConCAN is to help the next generation of leaders in Science, Technology, Engineering, and Mathematics (STEM) fields develop the skills needed to effectively communicate their research and ideas to peers, policy makers,and the general public. Graduate students were given the opportunity to network with over twenty-five science communication experts, to participate in panel discussions and interactive workshops, and to produce original, creative pieces for publication.
University of Alberta MSc candidate Guy Whittle-Scherfee says that attending ComSciConCAN was very rewarding. "I have never left a conference feeling like I gained more than I have from this conference. The interpersonal skills, the professional development – everything has made me feel more equipped for the future career I want to have, and to help people that need it that I can support."
Attendee Pramodh Yapa says the conference has influenced how he sees his role in science communications. "I don't know what expectations I went in with, but I know I didn't expect [the panels] to fundamentally change how I view what I do."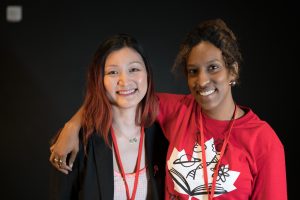 ComSciConCAN brings the successful ComSciCon workshop series, which has served thousands of students since 2013, from the United States to Canada. ComSciCon co-founder and University of Toronto astronomer Professor Maria Drout says she was glad to help a committee of graduate students from Toronto, McMaster and McGill bring the program north of the border.
"This is something we've been working on for over a year. The sheer amount of engagement that there was in Canada for this was unparalleled; we hope to host many more of these events across Canada in the future."
Co-organizer and University of Toronto Graduate Student Cylita Guy says it's very important for science students to understand how to communicate their research, particularly in this day and age. "Giving (Graduate Students) the communication skills needed to translate what they do to those outside of their field not only leads to better interdisciplinary research, but will also help them to make their discoveries accessible to broader audiences in a more inclusive fashion than has been done previously."
ComSciConCAN was sponsored by The Dunlap Institute for Astronomy & Astrophysics, The Socrates Project, and The National Sciences and Engineering Research Council of Canada (NSERC), along with the University of Toronto, McMaster University, McGill University, the University of British Columbia, the University of Waterloo, and Linamar. ComSciConCAN was free to attend for all accepted applicants.
For more information please contact:
Meaghan MacSween
Communications and Multimedia Officer
Dunlap Institute for Astronomy and Astrophysics
University of Toronto
(647) 296-8272
meaghan.macsween@dunlap.utoronto.ca
The Dunlap Institute for Astronomy & Astrophysics at the University of Toronto is an endowed research institute with nearly 70 faculty, postdocs, students and staff, dedicated to innovative technology, ground-breaking research, world-class training, andpublic engagement. The research themes of its faculty and Dunlap Fellows span the Universe and include: optical, infrared and radio instrumentation; Dark Energy; large-scale structure; the Cosmic Microwave Background; the interstellar medium; galaxy evolution; cosmic magnetism; and time-domain science. The Dunlap Institute, Department of Astronomy & Astrophysics, Canadian Institute for Theoretical Astrophysics, and Centre for Planetary Sciences comprise the leading centre for astronomical research in Canada, at the leading research university in the country, the University of Toronto.