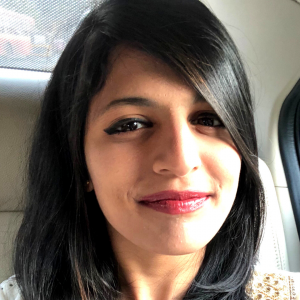 Aarya is in her fourth year as a PhD candidate in the Department of Astronomy and Astrophysics at the University of Toronto, specializing in the interdisciplinary fields of astrostatistics and astroinformatics. She is originally from Pune, India, where she received her Bachelor's degree in Computer Engineering at the S. P. Pune University. She is a voting member of the Astropy team and was a mentor for the Google Summer of Code 2021 program.
How did you first become interested in Astronomy and Astrophysics?
While I eventually found my passion in astronomy, I wasn't aware I could make a career out of it for the longest time. As a child, I wanted to know everything about the nature of our world, which made me generally interested in science and engineering. Not long after, I was drawn towards mathematics, which I thought of as the objective language of science, and computers, which seemed to be the modern-age mathematical tools. This led me towards an undergraduate degree in computer engineering, where the pieces sort of fell in place. I decided to work on scientific computing to apply my skills to problems that interested me the most — and what is more interesting than some of the biggest questions about the universe! A few great mentors and experiences later, I had the privilege to pursue my newfound dream.
Can you tell us a little bit about your specific field of research?
My research spans a wide range of data-rich problems on the formation and evolution of the Milky Way (MW) galaxy and is driven by innovations in astrophysics, statistics, and computer science. The mechanisms that govern galaxy formation and evolution are encoded in the history of star formation and chemical enrichment within a galaxy. In the MW, we can decode these mechanisms using the billion-star photometric and spectroscopic surveys we have at our disposal. My goal is to use these Big Data observations to estimate the age and chemical distribution of stars in different parts of the MW with high accuracy and precision, and compare this distribution to Galactic chemical and dynamical models. Particularly, I will test and refine models of Radial Migration: a process thought to be the missing puzzle in the theory of galaxies.
What's the most exciting thing about your research?
The most exciting thing about my research is its interdisciplinary nature and the fact that I get to work with some of the world's experts in astronomy, statistics, and computer science. Combining data from cutting-edge instruments with novel statistical techniques and data visualization tools, I am able to map the fine details of our Galaxy on my computer. How amazing is that!
What do you hope will be your next step, professionally?
I hope to continue work in astrostatistics and astroinformatics. One of my short-term goals is to publish papers that would comprise my thesis. I am particularly excited about my current work on time-series analysis in asteroseismology because I hope to release a Python package (my first!) alongside a paper. In addition, I wish to continue mentoring with the Google Summer of Code program and promote open source software development in astronomy. In the long run, I want to make a career out of research and teaching, with a focus on bridging the gap between astronomy and statistics/data science. Also, I wish to bring some of it back to India to help foster the growing research community there.