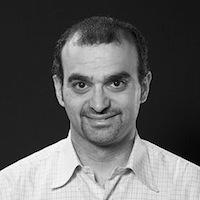 The stars of the night sky appear gentle, peaceful and unchanging. But this is a lie. The Universe is a violent and catastrophic place, with dozens of tools at its disposal to wipe out all life on Earth with almost no warning. And astronomers are only beginning to appreciate the true scope of the dramatic forces that drive the Universe's evolution.
Explore the dynamic, turbulent Universe in which we live, in this special talk—the first public lecture in Toronto by the Dunlap Institute's new director, Bryan Gaensler. Prof. Gaensler is a leading international researcher in cosmic magnetism, supernova explosions and interstellar gas, and is the author of the popular astronomy book, Extreme Cosmos. He joined the Dunlap in January 2016.
The talk is part of a special Earth Hour event organized by the Graduate Astronomy Students Association (GASA) called Lights OFF, Universe ON. In addition to the talk, the event includes planetarium shows, telescope observing and plenty of opportunities to talk with U of T astronomers. For complete details, visit GASA's AstroTours website.
Room 1050, Earth Sciences Building, U of T
Toronto

March 28, 2015
7:00pm - 8:00pm