FOR IMMEDIATE RELEASE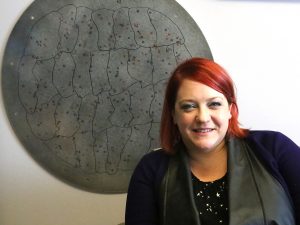 (February 12, 2019) – Dr. Renée Hložek has been awarded the 2020 Alfred P. Sloan Research Fellowship in Physics for her contribution to our understanding of the nature, structure, and evolution of the Universe and its initial conditions.
Hložek, an Assistant Professor at the Dunlap Institute and the David A. Dunlap Department of Astronomy & Astrophysics, University of Toronto, received the recognition on Wednesday.
She says she is honoured to be recognized. "I genuinely keep pinching myself about this award," she says. "I've admired previous winners and I'm honoured to be among them. This will enable me to support my team to take on new challenges in observational cosmology."
Hložek is a cosmologist who uses data from the Atacama Cosmology Telescope, as well as the upcoming Simons Observatory in the Chilean desert, to try and understand what the Universe is made of, its structure, and how it is changing with time. She also studies the accelerating expansion of the Universe using exploding stars called Type Ia Supernovae that act as standard candles and allow us to measure distances in the Universe. She will use measurements of the supernovae in the Legacy Survey of Space and Time (LSST) on the Vera Rubin Observatory to pin down the driving force of this cosmic acceleration.
"Professor Hložek is a brilliant and talented physicist who is the rising star of our department," says Dunlap Institute Director Dr. Bryan Gaensler, who nominated Hložek. "She is an innovative and exciting scientist, who embodies exactly the accomplishments and abilities that the Sloan Foundation seeks to recognise and support through its program."
Hložek is the sixth University of Toronto Astronomer to win this Fellowship, following Jo Bovy (2016), Sabine Stanley (2011), Bryan Gaensler (2005), Barth Netterfield (2001), and Dick Bond (1985).
Since 1955, the Sloan Research Fellowships have been awarded annually by the Sloan Foundation. The Fellowships provide support and recognition to early-career scholars. The program is one of the oldest and most respected of its kind.
For more information, please contact: 
Meaghan MacSween
Communications and Multimedia Officer
Dunlap Institute for Astronomy and Astrophysics,
University of Toronto
(416) 978-6613
meaghan.macsween@dunlap.utoronto.ca
The Dunlap Institute for Astronomy & Astrophysics at the University of Toronto is an endowed research institute with nearly 70 faculty, postdocs, students and staff, dedicated to innovative technology, ground-breaking research, world-class training, and public engagement. The research themes of its faculty and Dunlap Fellows span the Universe and include: optical, infrared and radio instrumentation; Dark Energy; large-scale structure; the Cosmic Microwave Background; the interstellar medium; galaxy evolution; cosmic magnetism; and time-domain science. The Dunlap Institute, Department of Astronomy & Astrophysics, Canadian Institute for Theoretical Astrophysics, and Centre for Planetary Sciences comprise the leading centre for astronomical research in Canada, at the leading research university in the country, the University of Toronto.