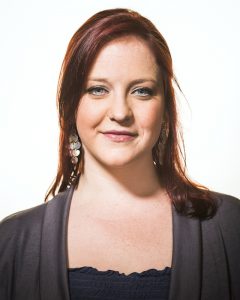 FOR IMMEDIATE RELEASE – Toronto (September 5, 2019) – Dr. Renee Hložek, Assistant Professor of Astrophysics at the Dunlap Institute for Astronomy and Astrophysics, has been named a 2019-2021 CIFAR Azrieli Global Scholar.
The CIFAR Azrieli Global Scholars program is a professional skills development program. It supports early-career researchers who show promise to be future research leaders. CIFAR is a Canadian-based, global, charitable organization that brings together a diverse group of experts to tackle important questions facing science and humanity. Dr. Hložek was selected to collaborate and learn under the CIFAR Azrieli Global Scholars "Gravity and the Extreme Universe" program.
"I'm delighted to be part of this program and this group of amazing scholars," says Dr. Hložek. "I am so excited for the enriching partnerships, collaborations and challenges the Global Scholars program will bring to my research practice."
In addition to the two-year term in a CIFAR research program, each CIFAR Azrieli Global Scholar will receive $100,000 in support of their research, mentorship from a senior researcher, and a variety of skills training,
Hložek studies a variety of problems in theoretical and observational cosmology. Her research focuses on understanding what the Universe is made of, its structure and how it is changing with time. She uses data from the Atacama Cosmology Telescope and the upcoming Simons Observatory and Large Synoptic Survey Telescope in the Chilean desert. Hložek hails from South Africa and received her DPhil from the University of Oxford in 2011, where she was a Rhodes Scholar. She was a Lyman Spitzer Jr. Postdoctoral Research Fellow in the Department of Astrophysics at Princeton University and the Spitzer-Cotsen Fellow in the Princeton Society of Fellows.
For more information, please contact: 
Meaghan MacSween
Communications and Multimedia Officer
Dunlap Institute for Astronomy and Astrophysics,
University of Toronto
(416) 978-6613
meaghan.macsween@dunlap.utoronto.ca
The Dunlap Institute for Astronomy & Astrophysics at the University of Toronto is an endowed research institute with nearly 70 faculty, postdocs, students and staff, dedicated to innovative technology, ground-breaking research, world-class training, andpublic engagement. The research themes of its faculty and Dunlap Fellows span the Universe and include: optical, infrared and radio instrumentation; Dark Energy; large-scale structure; the Cosmic Microwave Background; the interstellar medium; galaxy evolution; cosmic magnetism; and time-domain science. The Dunlap Institute, Department of Astronomy & Astrophysics, Canadian Institute for Theoretical Astrophysics, and Centre for Planetary Sciences comprise the leading centre for astronomical research in Canada, at the leading research university in the country, the University of Toronto.