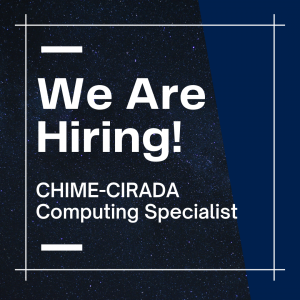 Date Posted: 09/02/2022
Req ID: 26359
Faculty/Division: Faculty of Arts & Science
Department: Dunlap Inst. for Astronomy & Astrophysics
Campus: St. George (Downtown Toronto)
Position Number: 00052044

………
Apply at:  https://jobs.utoronto.ca/job/Toronto-ON/562115017/
Description:
About us:
The Faculty of Arts & Science is the heart of Canada's leading university and one of the most comprehensive and diverse academic divisions in the world. The strength of Arts & Science derives from our combined teaching and research excellence in the humanities, sciences and social sciences across 29 departments, seven colleges and 46 interdisciplinary centres, institutes and programs.
We can only realize our mission with the dedication and excellence of engaged staff and faculty. The diversity of opportunities and perspectives within the Faculty reflect the local and global landscape and the need for curiosity, innovative thinking and collaboration. At Arts & Science, we take pride in our legacy of innovation and discovery that has changed the way we think about the world.
The Dunlap Institute for Astronomy & Astrophysics is one of the leading research centres for astronomy and astronomical instrumentation in Canada. Located at one ofthe top research universities, our institute retains reputable faculty, students and staff, all of whom are committed to innovation, public outreach and cutting-edge research. Our institute's field of research covers a multitude of subject matter across the universe, such as galaxy evolution and dark energy. We are dedicated to making our education, training, and activities pleasant and welcoming for all.
Your opportunity:
At the Long Wavelength Lab (LWLab) we build and operate novel radio telescopes to address fundamental questions in cosmology and astrophysics. Under the general direction of the Principal Investigator, this position supports the research team with the operation of the peta-scale signal processing and analysis backends on the Canadian Hydrogen Intensity Mapping Experiment (CHIME). The CHIME telescope continuously processes ~7 Tb/s of radio data, on a cluster of 1000 GPUs and numerous support computers, to pursue a wide variety of science. Your role will be to assist in the administration of this complex system and its associated infrastructure and remote sites, along with providing support to its 30+ active users, including data management and processing on Computer Canada clusters. With this position you will have the opportunity to work with cutting edge software and hardware and help to enable groundbreaking scientific discoveries. This position interacts with and supports other members of the CHIME collaboration, located at several universities across Canada & the US.
Your responsibilities will include:
Probing for information from end-users to identify problems and establish needs
Planning and implementing components of IT related projects
Providing consultative advice on IT issues
Training end-users on procedures and the use of supported IT systems
Analyzing and preparing modifications to components of network infrastructure for a large scientific cluster of varied computers; maintain scripting tools
Creating and editing support documentation
Liaising with technical specialists to resolve end-user issues
Collaborating on cost estimates
Essential Qualifications:
Bachelor's Degree in Computer Science, Computer Engineering, or related field; or acceptable combination of equivalent experience or acceptable combination of equivalent experience.
Minimum four years of recent and related experience with system administration and providing IT support to end users.
Experience testing and analyzing new and upgraded hardware/software
Experience with relational databases
Demonstrated experience in linux sytem administration
Experience with Ansible, Docker
Scripting experience in python and bash
Assets (Nonessential):
Experience with Prometheus and Grafana
Familiarity with LDAP for user management
To be successful in this role you will be:
Approachable
Communicator
Organized
Problem solver
Closing Date: 09/21/2022, 11:59PM ET
Employee Group: USW
Appointment Type: Budget – Term
Schedule: Full-Time
Pay Scale Group & Hiring Zone:
USW Pay Band 12 — $71,842 with an annual step progression to a maximum of $91,875. Pay scale and job class assignment is subject to determination pursuant to the Job Evaluation/Pay Equity Maintenance Protocol.
Job Category: Information Technology (IT)
Note: This is a two (2) year term position.
Lived Experience Statement
Candidates who are members of Indigenous, Black, racialized and 2SLGBTQ+ communities, persons with disabilities, and other equity deserving groups are encouraged to apply, and their lived experience shall be taken into consideration as applicable to the posted position.