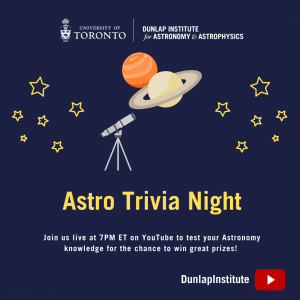 Attention savvy space fans! It's time to show off how smart you are. The Dunlap Institute hosts Astro Trivia Night on YouTube several times a year – live and online! Win cool prizes and learn fun facts from our all-star astronomers.
We will post promos and links on social media when we know when the next events are – so please watch for those! (Instagram: @dunlap_institute)
Please note: while we welcome anyone to participate in Astro Trivia Night, we can only ship prizes within Canada – excluding Quebec.
More Details: 
Who can join: Everyone
Cost: Free
Registration: None
Organized by: Dunlap Institute for Astronomy & Astrophysics
Place to play: youtube.com/DunlapInstitute